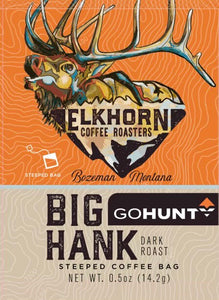 Our Big Hank Singles are great to take with you wherever you go, to enjoy a delicious cup of our Big Hank coffee anywhere!
These bags are crafted for quality, freshness, and convenience - precision ground, packed and sealed with nitrogen to preserve freshness.   These single-serve coffee pouches are 100% compostable.
No messy brewing equipment needed: just add hot water, steep and enjoy!